Management Team
Biographies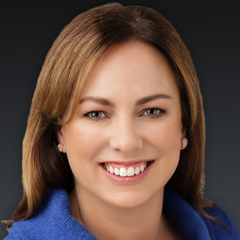 Hanna Skandera

President & Chief Executive Officer
Hanna Skandera joined the Daniels Fund in December 2020. As the Chief Executive Officer, Hanna implements the Board's strategic direction and leads all programs and operations of the Daniels Fund.

The Daniels Fund carries forward Bill Daniels' legacy of compassion, integrity, and impact by providing grants to nonprofit organizations and college scholarships to deserving students in Colorado, New Mexico, Utah, and Wyoming. With more than $1.7 billion in assets, the Daniels Fund is one of the Rocky Mountain Region's largest foundations.

Hanna has over two decades of executive leadership experience and a proven track record of impact in a variety of national and state-level private, public, and nonprofit organizations serving rural, suburban, and urban settings.

Recently, Hanna was CEO of Mile High Strategies serving as an education and employability entrepreneur, thought leader, senior advisor, and executive coach in leadership development and strategy, growing organizational impact, and transforming organizational culture. She also served as Editor-in-Chief of The Line, Founder of Pathway 2 Tomorrow, Chief in Residence with Chiefs for Change and Co-Founder of the Women in Leadership Initiative, Superintendent in Residence with the Broad Center, and the Visiting Professor of Education Policy and Impact at the Pepperdine University School of Public Policy. She was previously a Distinguished Teaching Fellow at Harvard's Kennedy School of Government.

Previously, she served as Secretary of Education for the State of New Mexico under Governor Susana Martinez, realizing the most significant gains for students in New Mexico's recent history. In this role, she oversaw a budget of $2.7 billion and more than 300 employees. Hanna also served as Undersecretary for Governor Arnold Schwarzenegger, Deputy Commissioner for Governor Jeb Bush, and Deputy Chief of Staff and Senior Policy Advisor for U.S. Secretary of Education Margaret Spellings. Hanna was also a Research Fellow with the Hoover Institution at Stanford University and a Pahara-Aspen Institute fellow. In addition to the Daniels Fund, Hanna currently serves on the boards of Academic Partnerships and Newsela. Her past board positions include Vice Chair of the Colorado Community College Board, Code.org, Uncharted Learning, FullBloom, George W. Bush Center's Education Advisory, Chiefs for Change, Ridge-Lane Limited Partners' Board of State Education Chiefs, Harvard Kennedy School's Mayoral Leadership in Education Network, and the Education Policy and Impact Initiative at Pepperdine University's School of Public Policy.

Hanna graduated cum laude with a degree in business from Sonoma State University and graduated as Valedictorian from Pepperdine's Graduate School of Public Policy.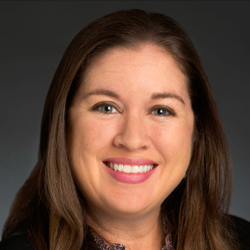 Kristen Lozada Morgan

Chief of Staff
Kristen Lozada Morgan joined the Daniels Fund in December 2020. She oversees administrative services and drives strategic focus and operational efficiency across the organization to achieve greater impact.

Prior to her position at the Daniels Fund, Kristen served as a consultant to nonprofit and education organizations across the country with an eye toward driving increased outcomes while realizing efficiencies. Previously, she led the unified enrollment system for the city of New Orleans as the Executive Director of Student Enrollment at the Louisiana Recovery School District and Chief Operating Officer for a network of charter schools.

Kristen holds a bachelor's degree from Harvard College and a master's degree in Business Administration from Tulane University's Freeman School of Business.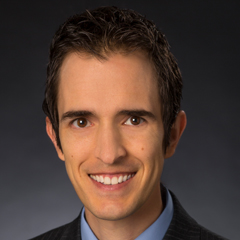 David Brown

Senior Vice President, Finance & Operations and Chief Financial Officer
David Brown joined the Daniels Fund in December 2007. As the Chief Financial Officer, David manages finance activities and serves as the Board Treasurer. He also manages operations including information technology and the analysis and reporting of data used in business activities across all departments.

Prior to joining Daniels Fund, David served as a Financial Analyst and IT Project Manager for Land Title Guarantee Company.

David is committed to community investment, which is at the heart of the Daniels Fund's work. David worked as a volunteer for numerous years, providing assistance to international students through International Students Incorporated. He is a past board member of DenverWorks. David is a member of the Leadership Network at the American Enterprise Institute, an alumni of Leadership Program of the Rockies, and a graduate of the Metro Denver Chamber Leadership Foundation's Impact Denver.

David has presented on cybersecurity topics at conferences, serves on multiple technology committees, and advises non-profits on cybersecurity matters to enhance the security practices of communities the Daniels Fund serves.

David holds an M.B.A. from Regis University, a Master of Science degree in Information Security Engineering from the SANS Technology Institute, and a bachelor's degree in Business from Leeds School of Business at the University of Colorado. David has earned 13 cybersecurity certifications, including the industry leading Certified Information Systems Security Professional (CISSP). He was the 170th cybersecurity professional in the world to earn the prestigious Security Expert (GSE) designation.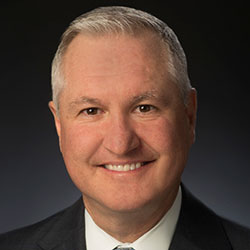 Bill Fowler

Senior Vice President, Investments
Bill Fowler joined the Daniels Fund in April 2012 as the Senior Vice President of the Grants Program. In June 2015, Bill changed roles and moved to Senior Vice President of the Scholarship Program. In August 2020, Bill moved to another role in the Daniels Fund as Senior Vice President of Investments where he assists the CFO and the Investment Committee in managing the administrative and operational functions associated with the Daniels Fund investment portfolio. Bill works closely with the Fund's investment consultant in providing oversight for managing the investment assets.

Prior to his position at the Daniels Fund, he served as chief financial officer and chief operating officer of Daniels & Associates, L.P. a privately owned media and telecommunications investment bank founded by Bill Daniels in 1958. He had the pleasure of knowing and working with Bill Daniels.

Bill has been a volunteer in the Denver community since high school where he was Key Club president and lieutenant governor. For over 30 years he has served the community in various capacities and is currently serving as an advisory board member of Colorado State University Department of Accounting; current board member of NASBA Center for the Public Trust; Board Member Emeritus and past board president of the Colorado Golf Association.

Bill holds a bachelors degree in accounting from Colorado State University.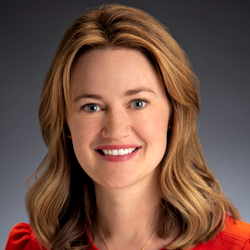 Laura Giocomo Rizzo

Senior Vice President, Communications & Scholarships
Laura Giocomo Rizzo joined the Daniels Fund in November 2021. She oversees the Daniels Fund's scholarship program and its communications function, including brand integration, graphic standards, messaging, print materials, and corporate website.

Prior to joining the Daniels Fund, she served as Senior Vice President of External Affairs for the Denver Metro Chamber of Commerce, overseeing marketing, communications, public affairs and events.

Throughout her career, Laura has worked in communications and marketing for elected officials, the Colorado Department of Higher Education, Centura Health, and SE2, a Denver-based communications consulting firm specializing in public issues.

She is currently on the board of Mile High Early Learning, Denver's oldest and largest provider of subsidized quality early childhood care, and a member of the community advisory board of Presbyterian St. Luke's Hospital in Denver. Laura is a 2017 winner of the Denver Business Journal's 40 under 40 award and alumna of Leadership Denver class of 2016. She is a Colorado native and a graduate of the University of Denver who lives in Denver with her husband and two young sons.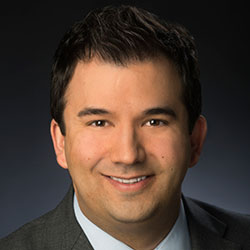 Bo Peretto

Senior Vice President, Legacy & Donor Intent
Bo Peretto joined the Daniels Fund in January 2006. He leads the integration and preservation of Bill Daniels' life and legacy throughout the Daniels Fund and all of its activities. Bo stewards the direction, style, and values of Bill Daniels in a manner that advances Bill's legacy for generations to come. He also oversees the organization's headquarters facility and public meeting space, special events, as well as the Daniels Fund Ethics Initiative Collegiate Program.

Prior to joining the Daniels Fund, Bo served as Assistant Vice President of Administration at Young Americans Center for Financial Education. In this role, he was responsible for supervising administrative staff and overseeing a broad range of the organization's administrative functions.

Bo is a currently a board member of Young Americans Center for Financial Education and has served on the boards of the Rose Andom Center, Young Philanthropists Foundation, and Colorado Jump$tart Coalition for Personal Financial Literacy.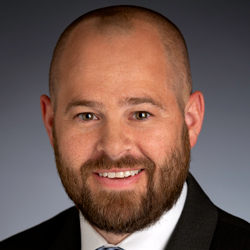 Luke Ragland

Senior Vice President, Grants Program
Luke Ragland joined the Daniels Fund in July 2021. He oversees all aspects of the Grants Program, including eight grant funding areas across the Daniels Fund's four-state region.

Prior to joining the Daniels Fund, Luke was the President of Ready Colorado, a statewide education advocacy organization focused on expanding school choice. Previously, he served as Vice President of Policy at Colorado Succeeds, a coalition of business leaders focused on improving the state's education system. Luke practiced complex commercial litigation at a law firm in Denver immediately after law school.

Luke currently serves on the board of the Charter School Institute, Colorado's statewide charter school authorizer. He received his undergraduate degree from Colorado State University and studied law at the University of Colorado Law School.

Luke is a fourth-generation Coloradan who grew up working for his family's logging company in rural southwestern Colorado. He currently lives in Denver with his wife and two daughters.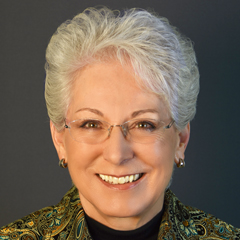 Karren "Sparky" Turner

Vice President, Community Relations
Sparky Turner joined the Daniels Fund in December 2002. She is responsible for developing and maintaining key business, community, and government relationships throughout Colorado, New Mexico, Utah, and Wyoming, to identify opportunities for involvement across the Daniels Fund's various programs.

Before to her current role, she served as a Senior Grants Program Officer at the Daniels Fund, managing grants in Wyoming and Metro Denver.

Prior to her position at the Daniels Fund, Sparky served as a state field representative and assistant state director for U. S. Congressman and Senator Hank Brown. Through her work, she monitored local and national legislative issues and worked closely with individual citizens and civic and community leaders. She also owned and operated her own accounting/bookkeeping business, and owned and published a weekly newspaper, The Fowler Tribune.

Sparky attended the University of Southern Colorado, majoring in Accounting. She has years of experience in the nonprofit sector, volunteering with numerous nonprofit organizations across rural Colorado including serving as President of the Bent-Prowers Cattle & Horse Growers Association, Board Member of the Colorado Republican Party and Otero County Farm Bureau, Chairman of the Second Senatorial District Republican Central Committee, and more.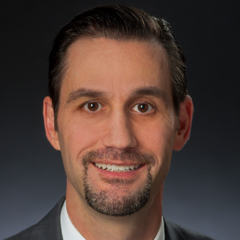 Bruce Wilmsen

Vice President, Media & Communications
Bruce Wilmsen joined the Daniels Fund in May 2014. He manages the Daniels Fund's media relationships, release of news, community partnerships, digital communications, and social media.

Before his position at the Daniels Fund, Bruce served as Vice President, Client & Marketing Strategy for RBC Capital Markets. In that role, he was responsible for business-to-business digital, print, collateral, and event marketing. Prior to RBC, Bruce was Marketing Manager for Daniels & Associates, L.P., a privately owned media and telecommunications investment bank founded by Bill Daniels in 1958.

Bruce holds a bachelor's degree in Marketing from the University of Colorado.