DANIELS FUND
Honoring Bill Daniels' direction to make life better for the people and communities of Colorado, New Mexico, Utah, and Wyoming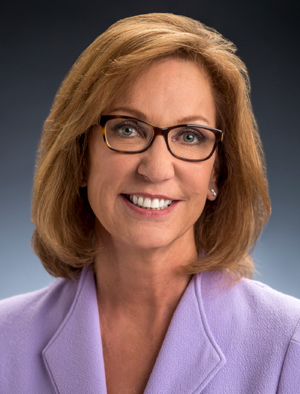 Margaret Kelly
Former CEO, RE/MAX, LLC
Margaret retired as the Chief Executive Officer of RE/MAX, LLC in 2015. Joining the RE/MAX network in 1987 as a Financial Analyst, Margaret rose rapidly through the ranks of the Membership Services and Regional Services departments. She was named Vice President in 1992, Senior Vice President in 1997, President in 2002 and Chief Executive Officer in 2004.

Margaret was responsible for the day-to-day operations and strategic direction at RE/MAX across North America and in more than 95 countries around the world. She is recognized by countless organizations for her exceptional leadership skills and commitment to community involvement, and for being an advocate for businesswomen around the globe. Most Americans know Margaret as the RE/MAX CEO who talked candidly about the real estate market on television – both through RE/MAX ads and guest appearances on CNBC, CNN and Bloomberg programs.

In January 2010, Margaret was appointed to the Board of Directors of the Kansas City Federal Reserve Bank – Denver Branch, and became Chair in 2015. Among many honors, she received the Warren Bennis Leadership Award in 2014, was named one of the Top 25 Most Powerful Women in Denver in 2013, and was named one of the Outstanding Women in Business by the Denver Business Journal in 2012. She received the Top Women in Mortgage Banking and Real Estate Services Award in 2011 and was recognized by Inman News as one of the Top 100 Most Influential Real Estate Leaders of 2009. REALTOR magazine named her one of Real Estate's 25 Most Influential Thought Leaders in 2006.

As a breast cancer survivor, Margaret is an advocate against the disease. She received the Komen Ambassador Award in 2010. Also, she has been named to the list of 25 Yoplait Champions, which recognizes ordinary women and men doing extraordinary things in their community to fight breast cancer.

Margaret is always mindful of her humble roots, learning business basics in her family's machine shop in Detroit. She received a Bachelor of Business Administration in Finance from Walsh College in Troy, Michigan. In 2006, she received an Honorary Doctorate of Laws from her alma mater. The American Association of Community Colleges presented her with the Outstanding Alumni Award in 2005. She holds a Certified Residential Brokerage Manager (CRB) designation, conferred by the Council of Real Estate Brokerage Managers.

Margaret enjoys time with her husband of 33 years and her two sons.