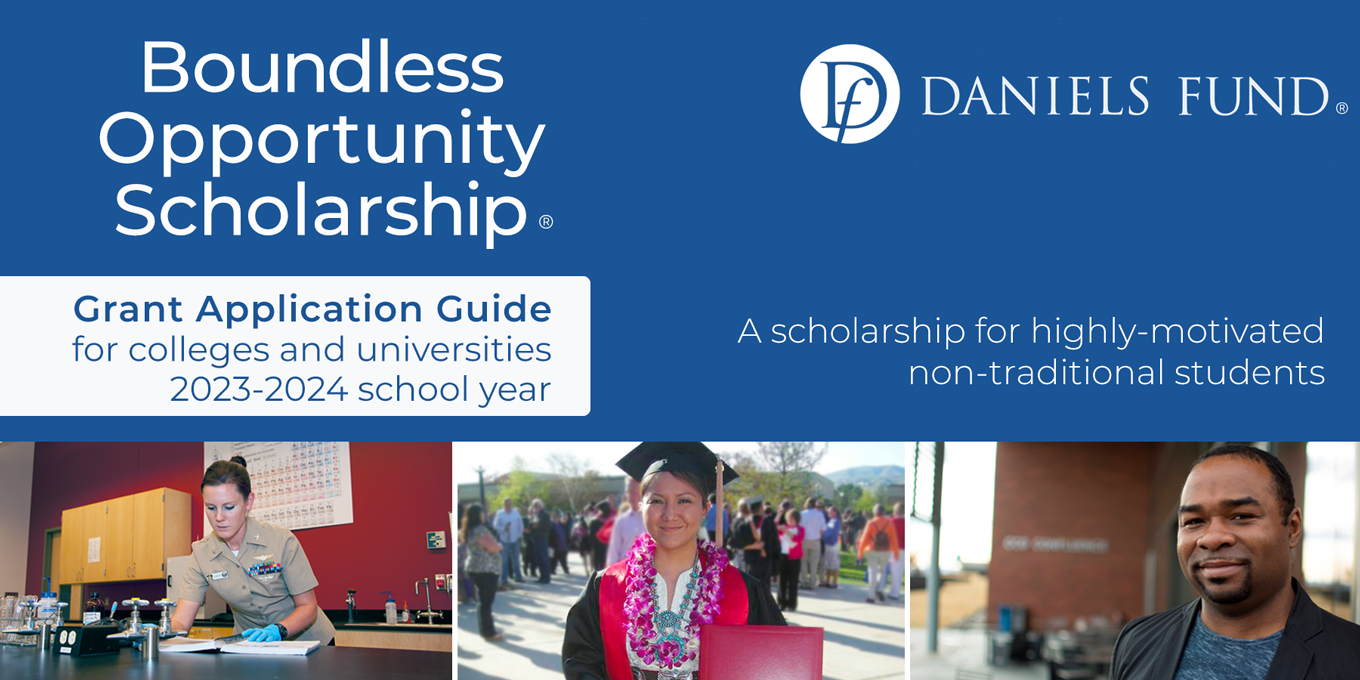 Boundless Opportunity Scholarship Overview
Bill Daniels directed the Daniels Fund to allocate the majority of its scholarship funding to traditional scholarships for graduating high school seniors entering college directly after graduation.
The name of this program
was inspired by a quote from
Daniels Fund founder, Bill Daniels:

"America remains the greatest nation on Earth, where boundless opportunities still exist for each and every one of us."
In 2003, the Daniels Fund established an additional program to help motivated non-traditional students by covering some of the costs of an undergraduate degree. The Boundless Opportunity Scholarship exists to benefit motivated non-traditional students in need of financial assistance to reach their education goals. To do this, the Daniels Fund awards BOS grants to select colleges and universities in Colorado, New Mexico, Utah, and Wyoming, who then provide need-based scholarships students they select.
Scholarship Eligibility
BOS eligibility is limited to applicants from specific student populations defined by the Daniels Fund:
Adults entering or returning to college
GED recipients
Veterans entering or returning to college
Former foster care youth
Former juvenile justice youth
ROTC participants
Each participating school then chooses to offer the Boundless Opportunity Scholarship to one or more of these populations. This means not every school offering the BOS program makes it available to every possible eligible student population.

To be eligible, an applicant must also be a citizen or permanent resident of the United States, and a legal resident of Colorado, New Mexico, Utah, or Wyoming. Applicants will have to demonstrate the need for financial assistance to reach their educational goals. In addition, applicants must be pursuing a 2-year or 4-year degree.
College/University Eligibility
Institutions eligible to submit a grant application for the 2023-2024 Boundless Opportunity Scholarship Program include any public or private two- or four-year, accredited nonprofit college or university in the Daniels Fund's four-state region. For institutions with multiple campuses interested in applying, each campus should submit its own application. Each individual campus may submit only one application per year.

Please note that this year's grant application will cover funding for one school year versus a two-year cycle, as the Daniels Fund will be evaluating the Boundless Opportunity Scholarship Program over the coming months.

If your institution currently has an active BOS grant with undistributed funds, you will need to distribute all funds from the active grant prior to June 1, 2023 to be considered for BOS funding for the 2023-2024 school year. Details of the plan for disbursement of remaining funds should be included as part of the application.
Applying for a Boundless Opportunity Scholarship grant does not preclude institutions from applying for a grant through the Daniels Fund Grants Program.