News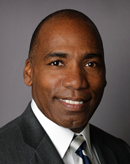 As the Vice President and Corporate Officer for Information Technology and Services for Ball Corporation, Williams is responsible for delivering business value through innovation and technology solutions. Prior to his position at Ball Corporation, he served as a cabinet member in Colorado Governor Bill Owens' administration as State Chief Information Officer, Secretary of Technology, and Executive Director for the Department of Labor and Employment.

Prior to a career in the public sector, Williams directed Qwest's supply-chain management and procurement IT program. He also served as Director of E-Business for U S West/Dex, Inc., Director of Local Market Integration for U S WEST Communications, and Manager of Business Process Integration for U S WEST, Inc. Williams served three years in the U.S. Army in Germany as a telecommunications specialist and was a Senior Programmer/Analyst with Norwest (Wells Fargo) in the Technical Services Division.

Williams currently serves on the board of directors for UMB Financial Corporation (NASDAQ: UMBF) and the Colorado Education Initiative. He previously served on the Governor's Commission on Information Management as the chairperson, the Governor's Commission on Science and Technology, the Statewide Internet Portal Authority, the Colorado Workforce Development Council, and the Denver Metro Chamber of Commerce.

He holds a master's in business administration from the University of Denver's Daniels College of Business and earned an undergraduate degree in computer information science from Denver Technical College. Leroy is a Colorado native and a graduate of Hinkley High School in Aurora.