News
April 18, 2016
1st place winners of 2016 Daniels Fund Ethics Initiative Case Competition – University of Northern Colorado
DENVER – Students from the University of Northern Colorado's Monfort College of Business are the first place winners of the Daniels Fund Ethics Initiative's fifth annual Consortium Case Competition, which took place April 14-15 in Denver. The second place team hails from the University of Utah's David Eccles School of Business, and the third place team is the University of Colorado Denver Business School.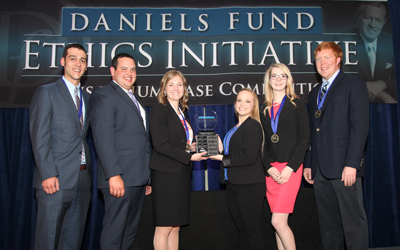 Ten teams of four-to-six undergraduate business students converged in Denver to participate in this unique competition, designed exclusively for universities that are members of the Daniels Fund Ethics Consortium from Colorado, New Mexico, Utah, and Wyoming. In addition, students from University of Colorado Law School acted as legal advisors to the teams. Besides the winning teams, there were competing teams from: Colorado Mesa University Department of Business, Colorado State University College of Business, New Mexico State University College of Business, University of Colorado Colorado Springs College of Business, University of Denver's Daniels College of Business, University of New Mexico's Anderson School of Management, and University of Wyoming College of Business.

The Case Competition exposes college students to a thought-provoking business ethics case, similar to a situation that they might face in their professional careers. It is designed to challenge students' ethical reasoning, give them tools for ethical decision making, and raise awareness of the importance of principle-based ethics.

In advance of the competition, teams are provided with a business ethics case. They take on the role of a hired consultant to the fictional company in the case, conduct an analysis of the ethical issues involved, and prepare recommendations. At the competition, each team presents their recommendations to a panel of judges. After a question and answer session with the judges, the team receives a second part of the case with new information — a crisis that puts a twist on the case. They have four hours to re-analyze their original recommendations, and make a second presentation to the judges.

The panel of judges is comprised of eight business professionals, and evaluates presentations against established criteria, including the Daniels Fund Ethics Initiative Principles: integrity, trust, accountability, transparency, fairness, respect, rule of law, and viability.

About the Daniels Fund Ethics Initiative Reflecting Bill Daniels' commitment to ethics and integrity, the Daniels Fund Ethics Initiative strives to deliver principle-based ethics education and reinforce the value of ethical business and personal conduct. The Ethics Initiative encompasses three components — the Collegiate Program, the High School Program, and the online Case Bank — each with a specific approach and target audience.

The Collegiate Program was launched in 2010 with a $7.5 million grant and eight participating schools, and was renewed for another five years (2015-2019) with an $11.25 million grant and the addition of three more schools. To learn more, visit DanielsFund.org/ethics.
Media Contact: Bruce Wilmsen
Direct: 720.941.4429
This email address is being protected from spambots. You need JavaScript enabled to view it.