News
March 13, 2015
Daniels Fund CEO Linda Childears, awarded as
Warren Village's "2015 Philanthropic Leader Honoree"
DENVER – Linda Childears, president and CEO of the Daniels Fund, was recognized by Warren Village as the "2015 Philanthropic Leader Honoree" at their annual All Star Breakfast on March 13.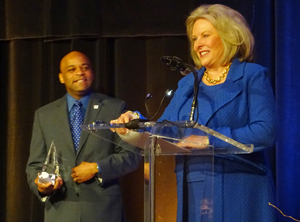 Denver Mayor Michael Hancock introduced Linda and presented her award. She was honored "as an exemplary leader in Denver through both her role at the Daniels Fund and through her active participation on numerous boards." Daniels Fund is a leading partner of Warren Village and other nonprofit organizations serving the community.

Receiving the "2015 Corporate Leader Honoree" was David Eves, president and CEO of Public Service Company of Colorado.

In attendance was Colorado State Governor John Hickenlooper, who concluded the breakfast by reading a proclamation that declared March 13, 2015, as "Linda Childears Day."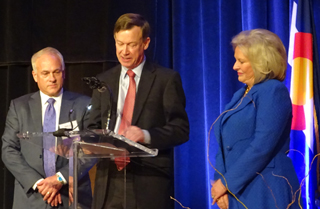 Daniels Fund is a private charitable foundation that continues the legacy of its founder, Bill Daniels, through grants, scholarships, ethics programs, and other initiatives that honor Mr. Daniels' intentions.

Warren Village helps low-income, single parent families achieve and sustain personal and economic self-sufficiency, with affordable housing, early childhood care and education, and family services.
Media Contact: Debbie Pierce
Direct: 720-941-4423
Mobile: 303-888-9824
This email address is being protected from spambots. You need JavaScript enabled to view it.