News
February 23, 2015
Linda Childears, Daniels Fund CEO,
a City Year Denver 2015 Honoree
DENVER – Linda Childears, President and CEO of the Daniels Fund, was recognized as a 2015 Honoree at City Year Denver's Red Jacket Gala on Friday, February 20.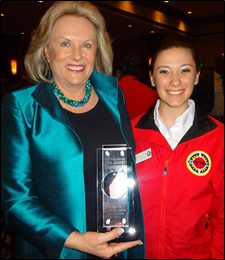 Linda Childears with Daniels Scholar and City Year AmeriCorps member Desiree Seidel, who introduced Linda on stage.
Linda was honored for her dedication to philanthropy, and for continuing the mission of Daniels Fund, which includes support for K-12 education reform with the goal of improving the quality of education for youth. She was also recognized for Daniels Fund's ongoing support of City Year Denver, including the 2011 implementation of City Year Denver, the Whole School Whole Child Program, and the future launch of their Southwest Denver Community School.

Colorado Lt. Governor Joe Garcia was also honored for his work supporting education in the Denver community.

City Year is an education-focused nonprofit that partners with public schools to provide intervention for students most at risk of dropping out. Their AmeriCorp members support students through in-class tutoring, mentoring, and after school programs that keep kids in school and on track to graduate.

The Daniels Fund is a private charitable foundation that continues the legacy of generosity established by its founder, Bill Daniels, through grants and scholarship programs, and other initiatives that honor Mr. Daniels intentions. The Daniels Fund Grant Program provides support in nine funding areas, including K-12 Education Reform.
Media Contact: Debbie Pierce
Direct: 720-941-4423
Mobile: 303-888-9824
This email address is being protected from spambots. You need JavaScript enabled to view it.