News
February 17, 2015
Daniels Fund recognizes Denver Police Academy's
1st Class of 2015 as "Neighborhood Heroes"
DENVER – Linda Childears, President and CEO of Daniels Fund, today honored the Denver Police Academy's 1st Class of 2015 as "Bill Daniels Neighborhood Heroes." The $1,650 check made to Special Olympics Colorado supports the recruits' participation in Colorado's Polar Plunge Splash & Dash at City Park on February 28, and recognizes their future work and sacrifice for our community under the leadership of Chief Robert White.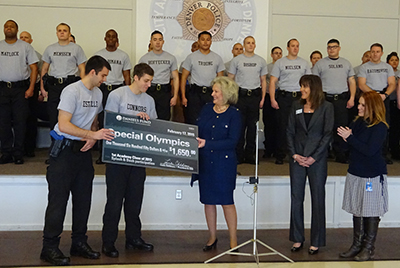 By participating in the Splash & Dash, the recruits will show their involvement in the community and their support of Special Olympics Colorado, a nonprofit that is generously supported by law enforcement personnel across the state. Special Olympics Colorado improves the lives of people with intellectual disabilities through quality sports training and competition.

The Bill Daniels Neighborhood Hero Award reflects the gratitude that Daniels Fund founder Bill Daniels had for those who went above and beyond the call of duty. He had utmost respect for those who placed their lives on the line in service to others, as well as for citizens who performed selfless acts to help others. Mr. Daniels maintained lasting friendships with police officers throughout his lifetime.

The Daniels Fund is a private charitable foundation focused on making life better for the people of Colorado, New Mexico, Utah, and Wyoming, through grants, scholarship programs, and other initiatives.
Media Contact: Debbie Pierce
Direct: 720-941-4423
Mobile: 303-888-9824
This email address is being protected from spambots. You need JavaScript enabled to view it.