ETHICS INITIATIVE
An initiative to deliver principle-based ethics education
ECR Case Preview
THIS IS A NON-PRINTABLE PREVIEW OF THE CASE.

FOR A FREE, PRINTABLE VERSION, CLICK HERE.
EARLY CHILDHOOD DISEASE
RESEARCH FOUNDATION
PART A
INTRODUCTION
The Board of Directors of the Early Childhood Disease Research Foundation (ECR) is undertaking a review of its strategic plan. You have been engaged by the Board to review ECR operations and make recommendations. The goal is to ensure the continued viability of ECR as the leading funding organization for research in rare early childhood diseases. You will review financial data and operating practices as disclosed in interviews of the ECR staff and Board.
BACKGROUND
ECR is a nonprofit organization founded in 1963. Its mission is to fund research on rare early childhood diseases and to make the research results widely available. It accomplishes this mission through extensive fundraising activities; a prestigious grant program working with universities, hospitals and research labs; and a public conference program. All of these efforts have experienced substantial growth over the previous decade. The organization is led by a Chief Executive Officer (CEO) who is primarily a fundraiser. The CEO leaves day-to-day operations of ECR to an Executive Vice President. The Board is composed largely of individuals who have been chosen for their ability to create fundraising contacts or provide credibility to ECR as an organization. Funds raised have risen each year over the 10-year period ending 12/31/2014. The following chart illustrates the growth: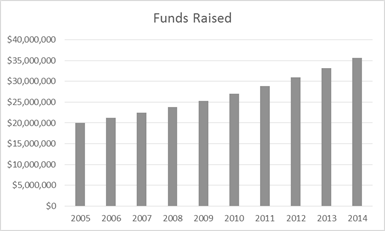 Total funds raised in 2014 were nearly $36 million. Grants awarded amounted to $24 million. Conferences have drawn increasing attendance and positive publicity for the organization. Large conferences are held in February on the West Coast and in July on the East Coast. Attendance in 2014 at these conferences was in excess of 1,000. In addition, four regional conferences are held each year across the country. In 2014, these conferences averaged 200 attendees. Sponsors and a vendor exhibit hall are now funding 75% of the conference costs. Attendance fees have pushed the conferences into a profit center position. The overall operating budget for overhead (OH) and fundraising was $7.4 million. The following chart shows the budget over a 10-year period.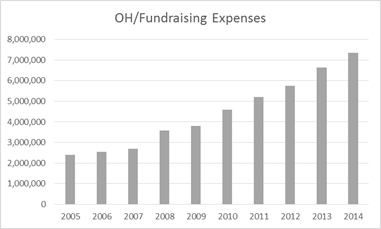 ECR has a small full-time staff of 20 people. Besides the CEO and Executive Vice President, this includes five Grants Officers, three full-time Conference Planners, and a PR/Communications Director. (Note: Conference Planners are responsible for all the logistics of holding conferences including selection of city, selection of conference facilities and hotels, coordinating all onsite support such as meals, audio visual support, etc.) The other positions are bookkeeping, information technology support, and office support including an Office Manager. A new Finance Manager has just been hired. Human Resources' support is provided by the Office Manager; Accounts Payable is outsourced; the General Counsel function is provided by a partner at a large law firm, largely on a pro bono basis. Staff salaries are very competitive. There is excellent medical insurance and a 401K with a strong match.
EXCERPTS FROM INTERVIEWS
CEO (Sharon): "Given the economic issues over the last few years, we have posted very strong results. Our research has been written up in the press and has resulted in several significant breakthroughs. Our major contributors certainly are focused on the value of the work that we do and how it helps people, but the good publicity they get doesn't hurt at all. I focus most of my time on developing new sources of funding. That's why having an Executive Vice President like Rob is so important to our success. He was here when I took this job and I don't know what I would do without him. He keeps everything running and does a great job making our existing contributors feel appreciated. I really don't have to pay any attention at all to the operational side of things and the staff loves him. Rob has introduced a lot of new initiatives. I have to admit that I was skeptical when the first thing he proposed to me was expanding our conference program, but it has been a real home run. We used to hold one educational conference a year at a university site that 200-300 people attended, and no one noticed outside of the research community. Seven years later, we have 1,000 people showing up at major conference centers twice a year and coverage from some prestigious publications and news channels. Some folks have griped about how much money these meetings cost, but the payoff is in the money we raise for our work."
Executive Vice President (Rob): "I've been here for 10 years and the results speak for themselves. We've grown in size and influence every year. I doubt you can find a similar organization in the country with the success story we have. Our stakeholders are happy with how their money is spent. They really love the opportunity for favorable publicity that our conference program provides to them. I've heard an occasional grumble from a couple of the Board members about the conferences being too lavish, but that always dies out. The numbers don't lie. Of course, none of this happens without our staff. These folks are great. Young, enthusiastic, and ambitious. We take care of them. Promotion from within is our preference. Sometimes we have even created new positions to provide promotional opportunities. We just did that with Susan, one of our Conference Planners. She was named Director of Conferences last month. With the conference program we run here, she's indispensable. I know the other two Conference Planners have a lot more experience than Susan, but she has a high energy level and she has a great grasp of what we're trying to do when we negotiate our conference contracts. Performance is what gets rewarded, not years of experience. Susan has been invaluable in maintaining the strong relationships we have with major hotel chains that have the ability to host our conferences. You asked about staff stability. We have some turnover but nothing unusual in this type of operation. This past year we lost four people but replaced all of them without too much trouble. One of them was a new Finance Manager who started two weeks ago – we're still educating Seth on how we do things, but I'm sure he'll fit right in when he gets the lay of the land."
Finance Manager (Seth): "I'm new here so I can only provide some first impressions. ECR is a strange environment. Some of the staff seem really pleased with the place, others not so much. No one complains, but there isn't a lot of the office comradery I'm used to. This is my first management position, so I'm really trying to adjust theory to reality. For example, I thought that our processes for approving expenses and payments were a bit, well, 'informal' is the word that comes to mind. I mean, Rob approves everything, no two signature requirement for payments, and no firm guidelines on expenses for travel or entertaining. When I saw some of the dinner tabs, wow! Turns out that is part of how Rob keeps the staff happy, plus some of the dinners involved our major contributors and even some Board members. The more I spend time with the books, the more comfortable I get. In fact, our audit reports for the last four years are really clean – not a single finding."
Executive Assistant (Debra): "I'm not sure there is very much I can tell you. We don't see Sharon much here in the office, but she has always been pleasant and appreciative of the staff. Rob really runs things. If Rob is happy, then you've done your job. I will say that I don't understand why folks like Susan get promoted so quickly, but it happens here a lot. I know she's a lot of fun to be around, but she's only been here two years and it was her first job out of college. Shelly was Susan's predecessor and she was also fresh out of college, but she didn't last long. Pat and Art, the other two conference planners, are real pros, but I guess Rob knows what he's doing. Like I said, there's not much I can tell you."
Grants Officer (Ryan): "What I love about working here is the discretion we Grants Officers have in reviewing and awarding grants for research. This is important work. We do send all grant recommendations to the Board, but they simply approve them in a block. They do like to get highlights on our more successful grant research and we make sure that information gets to them on a regular basis. The Grants Officers do the real work, selecting the grant proposals that will get consideration, chairing oral presentations by the research institutions, and making the final selections, of course with Board approval. We each have an area of research we monitor and I can assure you the researchers know which of us handles what. I see them at the conferences twice a year and we get a chance to hang out informally. Makes the formal part of the process a lot easier. Each Grants Officer has a specific goal for the year to award a certain number of grants and Rob watches the goal very closely. I know it's important to get the work awarded – no grants, no research. Of course the bonus money at year-end for hitting the goal is a great incentive. ECR is a great place to work."
Public Relations/Communications Director (Frank): "I came here from a pharmaceutical company. Before that, I did this type of work with an information technology firm and a large investment firm. I've been around. PR is the same no matter where you go. I work with Sharon on a constant basis. She understands the importance of a good communications program and good press relations. So do most of the Board. Luckily, we have mostly good news stories to get out there, so even the grumblers on the Board – the ones who think we are a bit too lavish or a bit too informal – are happy. Results make all the difference."
Chair of the Board of Directors (Emily): "I asked for this review not because I'm disappointed in our results, but because I want to make sure that we stay ahead of the curve. Nonprofits are constantly challenged to stay viable and I don't want to have a downturn on my watch. I'm a business person and performance is what keeps you viable. Sharon and Rob are a great team, I just want to make sure we support them appropriately. I must say that Rob and Susan do a great job planning our Board meetings. The environment makes a difference, especially for our Board members who are all busy people with tight schedules. We can come in, relax, have a good meal and get right to business the next morning. Rob puts together a tight agenda and provides all the right information in advance. The new grant proposals are synopsized and easy to understand; we don't even need to discuss them, just get the approval on the board minutes. Rob usually takes us right through the budget numbers so we can focus on Sharon's report on fundraising activities. That's where we spend most of our time. Oh, Frank always gives us the 'good news' report at the end of the meeting. It's great knowing that our grant money is producing results."
Member of the Board of Directors (Dr. West): "I think ECR is a very effective organization and it's doing good work. I'm a pediatric cardiologist, so this work is close to my heart. Overall, it's hard to criticize the organization. I mean, look at the numbers! I admit mine is often a skeptical voice on the Board. I must drive Rob crazy with all my questions. I keep thinking, do we really need to spend some of the money we do? Wouldn't the conferences be just as effective in lower key venues? Should we look in more detail at our research results? Of course, at the end of the day, we are recognized as one of the most effective organizations in the field, so I guess that's my answer. Hopefully you can help us "fine tune" the organization."
Office Manager (Leslie): "This is a very well-run organization. Rob runs a very tight organization, but he still manages to keep it almost a family type atmosphere. I don't deal with Sharon very much – she's hardly ever in the office. Rob runs things and I can't say enough good things about him. I keep him up-to-speed on everything in the office. I'm his eyes and ears on the ground, so to speak. Besides the day-to-day office administration, I also provide the human resources support for the staff. Usually it's just paperwork on benefits and performance reviews; that sort of thing. I'm here if people have concerns, but honestly, I haven't heard a complaint in the five years I've been here. Why would anyone complain? Rob takes care of his top performers, passing on some of the perks that come in from our conference partners and exhibitors, for example. It's a happy place."
Grants Officer (Miriam): "We do a substantial volume of grant work here. ECR received about 500 grant proposals in 2014. The number has been going up for years, so we added a fifth Grants Officer in 2011. That helped, but it's still a lot of work. We review them against previous work in the field, identify which proposals present an opportunity to continue promising work (we have a lot of renewal grants), which are looking at new approaches that have promise, and which aren't adequately supported or don't really fit within the scope of our work. Those latter proposals just get a polite letter saying we will not be able to fund their work. We used to do peer reviews the way the National Institutes of Health does, but Rob did away with that to speed up the process and get more grants awarded. All the Grant Officers have background and education in medical research. Rob's position is that with a mature program such as ECR's, we can filter the grant proposals more than adequately. After the initial review, we ask for supporting information on the proposed budget (well, at least I do – I don't know how the other Grants Officers handle it). In any case, we run everything past the Board before awarding and there are some heavy hitters there to catch anything that gets past us. Honestly, the one area I think we are weak is monitoring progress. The progress reports we require are pretty perfunctory. The final reports have more detail, but I have yet to see a researcher tell me they didn't get useful results. The Board eats up the success stories. Rob and Sharon get a regular report on that sort of thing."
General Counsel (John): "My firm provides a fair amount of pro bono support to ECR. We helped develop the pro forma grant agreement, answer questions from the Grant Officers when someone wants to alter the terms of the grant agreement, and help with intellectual property issues. Truthfully, that is most of what we do for ECR. I do attend all Board meetings and perform the corporate secretary functions for the Board and ECR. The firm does a lot of research grant legal work so this is relatively straightforward for us."
Conference Planner (Pat): "We have an extraordinary volume of meeting and conference work for an organization of this size. That's good for my department. We handle the regional meetings entirely within the department. For the two big national conferences, we do all the leg work, but Rob steps in to work the negotiations. He visits the competing venues with one of the Conference Planners; usually Susan the last couple of years. Before her, it was Shelly. The site visits cost a lot of travel dollars, but they're really necessary with the level of complexity and the size of the national conferences. Art and I handle the regional conference site visits. Honestly, I have no idea what goes on at the conferences, this research stuff is over my head. But meeting planning I know and we run first-rate meetings and conferences. The feedback from the attendees is always positive on the arrangements. I can get you copies of the feedback surveys if you like."
ADDITIONAL OPERATIONAL DATA

Charles Chadwick, Senior Consultant, Ethics Resource Center, wrote this case with the approval and collaboration of the Daniels Fund.
© Daniels Fund 2015. All rights reserved.